Ruby's Dream Big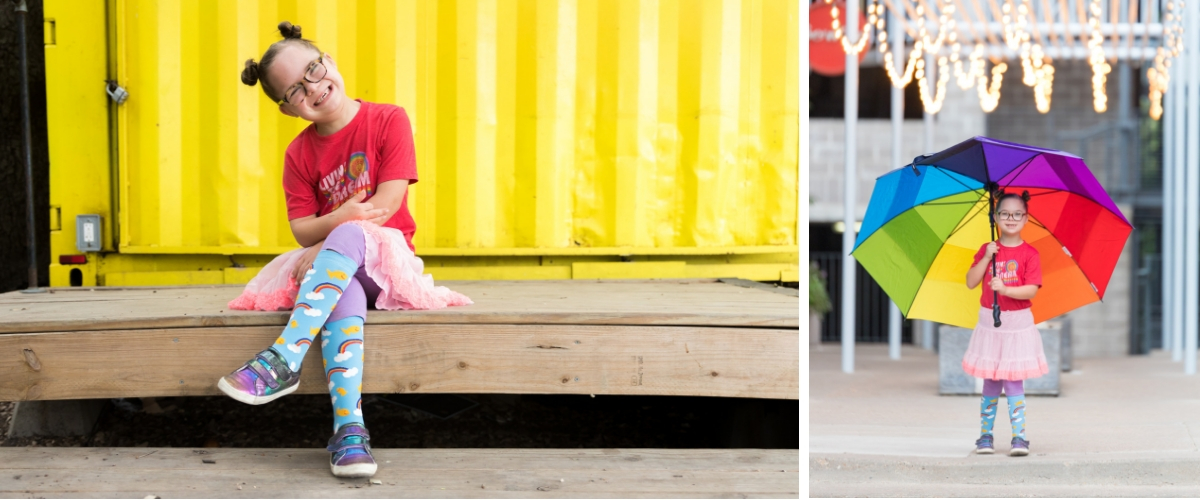 Featured Artist:
Meet Ruby. She is 7 years old and has all the magic inside her that will make you feel like a super star. She is already on her way to changing the world and helping everyone realize, no matter who you are, you can dream big, chase your dreams, and have them all come true. Anything is possible. When Ruby was born, unexpectedly with Down syndrome, her parents started the nonprofit, Ruby's Rainbow and she became the face of the nonprofit. They wanted to help people like Ruby, to follow their passions and go to college.
Inspiration For The Design:
If you know Ruby, you know there are a few things that she loves. I mean like, really REALLY loves. So naturally, the gold fish, rainbow and unicorn all made the sock. We asked Ruby, why the gold fish? "I love eating them!" Why the rainbows? "They make me happy!" Why the unicorn? "It's magic!" When you put all those together on to a sock, you can't not smile big knowing Ruby's love is all wrapped up on this sock and will travel with you whenever and where ever you go.
On the bottom of the sock, you will find the words 'dream big' to serve as a reminder that no matter who you are, you have what it takes to chase and live your dreams. It's the perfect sock to remind YOU to keep DREAMING BIG!
One of the greatest parts about this is with each pair of 'Dream Big' socks purchased, $5 goes directly to Ruby's Rainbow to help more students with Down syndrome go for their dreams of higher education and independence!
About Ruby's Rainbow:
Ruby's Rainbow is a nonprofit that grants scholarships to adults with Down syndrome who are seeking post-secondary education, enrichment or vocational classes, helping them achieve their dreams of higher education while spreading awareness of their capabilities. Since 2012, they have awarded $643,000 in scholarships to over 200 adults with Down syndrome all over the country! And that number continues to grow!
When you put your 'Dream Big' socks on, smile big knowing you are creating opportunities for those with Down syndrome to go for their dreams and attend college.
Fill Ruby's Socks With Big Dreams and Scholarships:
As of February 2019, you've helped us raise $11,240 to directly give back to Ruby's Rainbow to help more adults with Down syndrome to attend college!! Continue to check back in as we update Ruby's sock meter of scholarships and dreams being fulfilled.
To purchase a pair or two of 'Dream Big' socks, click on the sock below.