Posted by Natalie Green on Apr 18th 2018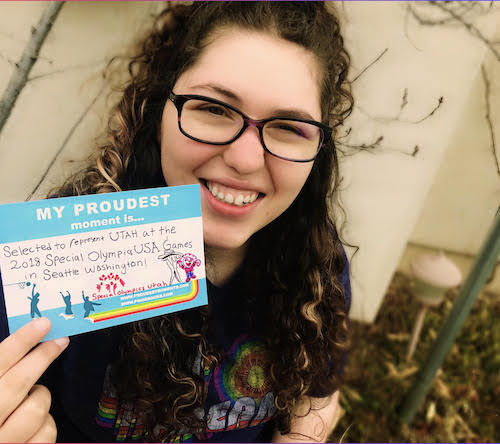 This year I was asked by Special Olympics Utah to represent our state at the 2018 USA Games Youth Leadership Summit in Seattle, Washington. This makes me proud because I have worked really hard to overcome obstacles in my life. I was born with cerebral palsy, and in 2011 I had to have a brain surgery that stopped my seizures. I went through some pretty tough times before the seizures stopped, but I always continued to get back up again. I joined Special Olympics the following year, and competed in cycling and soccer events. In 2015 I was a torch bearer for the Unified Torch Relay for the LA Games, and in 2016 I was selected to be part of the Real Salt Lake Unified soccer team.
I am now an ambassador for RSL Foundation and for Special Olympics. I am an athlete and a voice for those who have a disability. I want to grow inclusion, acceptance, respect, and human dignity for all people, with and without intellectual disabilities.
I can try to do my best. I can find ways to do what I love. I can be true by being who I am, and I can always be kind. I know I can move hearts if I do these things.
Avril Lavigne wrote the song, Fly, for Special Olympics. She says, "There's a light inside all of us. It's never hiding you just have to light it." This is my time and it makes me proud to represent who I am and the people I care for, and the people who care for me.