Posted by Eli Espinoza and Rachel Smith on Feb 4th 2013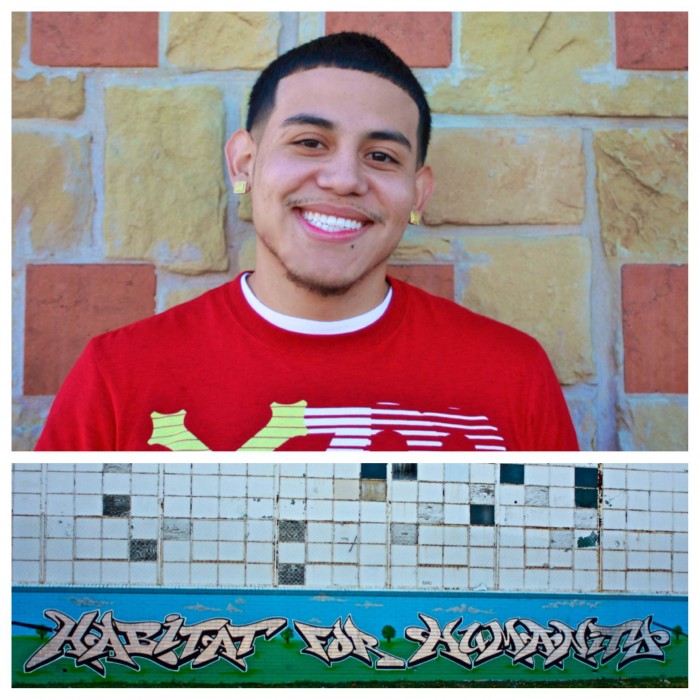 I met Eli about a year and half ago while volunteering with my classroom at Habitat for Humanity Restore. We volunteered once a week and Eli was designated to work and assign us jobs. Immediately the kids fell in love with him. He had a natural way of working with the kids and getting them to see why the tedious work they were doing was making a difference and how important they were. His magic worked, they stayed motivated and on the bus ride back to school, they anxiously talked about coming back to see Eli again. I'll let you read his story and feel his power!
My name is Eli Espinoza, I currently live in Austin, TX, I'm 23 years old and I have been through more than what most 23-year-old guys have been through. What I consider my PROUDEST MOMENT to be is that I'm proud of the man I turned out to be. You see, my life has been a consistent struggle with trouble. Let me rewind back a little and reveal some of the past to you, the past that made me the person I am today.
I was born in SE Houston and grew up going to church as a Christian. At the age of 10, I started noticing gang activity through out my neighborhood. I immediately was envious of the "gangster life." I saw how much money they had and the type of clothes they wore. I told myself that's what I was going to be and at the same time, my parents were going through a divorce. I slowly stopped going to church and began doing bad things, whether it was at school or just at the house.
I made a best friend and his name was Trouble and he followed me through out my teenage life. When I was 13, I was convicted of driving an unauthorized use of a motor vehicle, making it my 5th offense. I was sentenced to 3 months in Juvenile Detention Center. From there on out I was in and out of jail.
At the age of 15, my dream came true and I joined the gang I grown to admire so much. They put a gun in my hand and I began robbing and stealing. I did a lot and saw a lot. In 2004, a few friends and me got real drunk and played Russian roulette. Click, click, click, BAM! is all I can remember. My best friends brother fell victim and it breaks my heart when I think about how we could have prevented that from ever happening. He was only 14…
Peer pressure ran my life the following year, which resulted in me being sentenced to boot camp for 6 months. I thought I would change when I got out but soon learned that change is not just something that happens but more of something you want. Before I knew it, I was back on the road of trouble. At the age of 18 I received 4, 3rd degree felonies and was sentenced to two years in prison. I felt as if that was life slapping me in the face. But they always say you either learn the easy way or the hard way.
I was in prison from Nov. of 2007 to Nov. of 2009 and while in prison I learned to grow up, as I had time to think. I thought about my life and started to take action and earned my GED. The feelings I felt when I was finally released are ones you can't describe but only feel.
First thing I did was look for a job. It was hard to find a job with such a long history. Job searching was not going well so I ended up fighting for money. It was simple, I win, I take your money. You win, you take my money. After 3 fights I knew I was on the wrong path and began searching for a job again.
It was then Habitat for Humanity found me through a work program and hired me to deconstruct homes. I fell in love with the job and the people but after a couple months the program was cut and I was laid off. I knew I found the job I loved so I started volunteering my time at Habitat for Humanity Restore. After a few months, they hired me on in sales!
At that point I realized what I was good at…helping people. It makes you feel better about yourself and right then and there I knew I wanted the change and opened my arms to it gracefully.
It has been 2 years since I have been working for Habitat for Humanity and I feel truly blessed they gave me a chance. The chance to prove to myself I can be successfully independent and be the man I am today. I am 23 and have a lot of dreams now. Back then I didn't know dreams of the future existed and with each day that passes I welcome this new life I have not been given but earned. I am proud to be the man I am today!